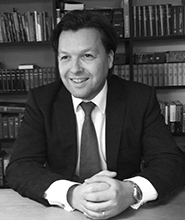 Dr. Michael Hohenauer, Attorney at Law
Attorney Dr. Michael Hohenauer studied Law at the University of Innsbruck and Università degli Studi in Milan, Italy.
After acquiring a sound knowledge of jurisprudence in international law offices Dr. Michael Hohenauer was able to put this knowledge to practical use, whereby his fluency in several foreign languages predestines him to practice law on an international scale. Innsbruck as a historic crossroads on the well-traveled arteries between Austria, Italy, Germany and Switzerland provides an excellent location for a law office. Attorney Dr. Hohenauer represents Austrian, German, Italian and Swiss corporations and private persons in court and out of court in Austria and abroad. Furthermore, in the increasingly competitive European marketplace Attorney Dr. Hohenauer advises also clients on international corporate and commercial matters as well as international fiscal offenses.
Education
University of Innsbruck
Università degli Studi, Milan
Professional Experience
Intern at the liaison office of the State of Tyrol to the European Union, Brussels (de.alpeuregio.info)
Simmons & Simmons Law Firm, Paris (www.simmons-simmons.com)
Fiebinger Polak Leon & Partner Rechtsanwälte GmbH, Vienna (www.fplp.at)
Dr. Albert Heiss, Attorney at Law, Innsbruck
Languages
Practice Areas
Corporate and Commercial Law
Penal offenses under Corporate and Commercial Law
Competition Law
Competition Protection Law
Labor Law and Commercial Agents Law
Law on Foundations
Tort Law and Personal Injury Compensation
Affiliations
Member, Tyrolean Bar Association
Member, Italian Chamber of Commerce
Member, European Criminal Bar Association - ECBA http://www.ecba.org/